| | |
| --- | --- |
| | Newsletter |
National Clinical Programme for ENT Education in Primary Care awarded Educational Project of the Year

The Department of Surgical Affairs, National Clinical Programme in Surgery in collaboration with the RVEEH, Sligo University Hospital, and University Hospital Waterford was one of the recipients for the premier awards in the Irish Health Care Sector on 17th October 2018 at the Irish Health Care Awards. The awards recognise the highest achievers in Irish Medicine that have made a positive contribution to Patient Care in Ireland in 2018. The National Clinical Programme for ENT Education in Primary Care, which is led by Ms Camilla Carroll in her role as National Primary Care ENT Education Lead, RVEEH, SUH and UHW collaborated in training primary care practitioners, GPs and practice nurses to carryout ear microsuction in the primary care setting to significantly redesign the current model of care for cerumen impaction, stream-line the patients' journey and free up ENT OPD services for management of more complex conditions. Congratulations to the winning team!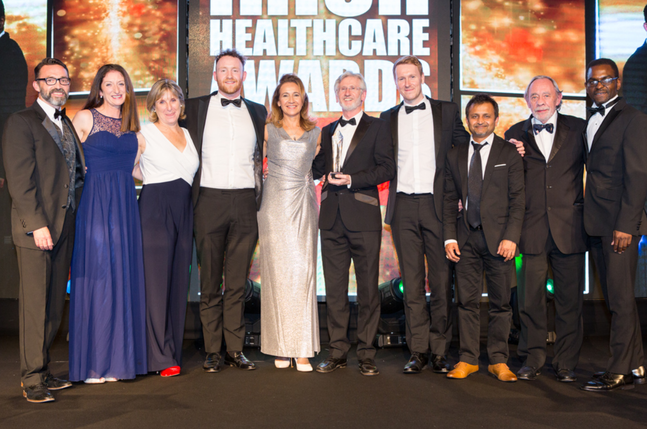 Left to right: Nurse Elaine Kenahan, Mary Flynn NCPS, Dr Rory Hasson GP, Ms Camilla Carroll National Primary Care ENT Education Lead, Dr Owen McDermott GP, Mr Deepak Kumar Chief Audiologist RVEEH, Prof Michael Walsh NCPS ENT Clinical Advisor. Absent from picture: Mr Kieran Ryan Surgical Affairs, Nurse Patricia Quilty and Cathy Fox
Background
Age-related ENT conditions place a significant burden on the healthcare system. Cerumen impaction is present in approximately 60% of patients over 65 years and has been linked to the progression of cognitive impairment. Many of these older patients are not suitable for cerumen removal in Primary Care using the traditional method of irrigation, because the patient is taking a prescribed anticoagulant medication. The procedure of choice is then microsuction, which currently is delivered in a hospital OPD setting by an ENT Surgeon. 30% of ENT OPD referrals (approximately 18,500 patients annually) are patients suffering from cerumen impaction requiring microsuction.
Project Design
The project team designed a "fit for purpose" educational skills model to train primary care professionals, GPs and practice nurses in the skill of ear microsuction, with a view to managing non-complex ear conditions, such as cerumen impaction in primary care. The pilot programme was funded by the HSE through the National Clinical Programme in Surgery. The educational programme was delivered by ENT experts in 3 regional centres, namely Dublin, Sligo and Waterford. 60 primary care participants were enrolled into the ear microsuction training programme, which commenced in January 2018. The programme timeline is outlined below:
Initial attendance at the Expert Delivered Practical Skills Workshop,

subsequent participant delivered microsuction care to 20 patients

(to be completed by March 2019) logging each patient interaction in a reflective logbook

re-assessment of microsuction skills at an interval of 6 months from initial workshop attendance, with logbook review
1,200 patients will have been treated in the primary care setting, upon completion of this pilot programme by March 2019.
Practical Skills Workshop
The project team designed a standardised practical skills workshop to teach ear microsuction to GPs and practice nurses. A competency-based educational model was utilised based on adult learning theories, with a focus on skills transfer in a situated learning environment (Figure 1). The workshop was delivered over 6 hours and included didactic teaching, practical skills stations, with simulation and virtual reality ear models.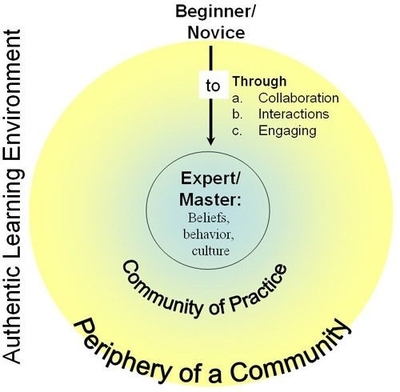 Figure 1: Ref: Lave and Wenger. Situated learning: legitimate peripheral participation, 1991.
31 participants were trained in the RVEEH Dublin, 15 were trained in Sligo and 14 were trained in Waterford. The 60 trained participants are currently performing ear microsuction in the primary care setting, with completion of the case load expected in March 2019 and reassessment in April 2019.
Impact of this program
The project team designed and delivered an educational programme to upskill 60 primary care professionals in the procedure of ear microsuction. These primary care practitioners will have safely treated 1,200 patients by March 2019. These patients would previously have had to attend a hospital based ENT Surgeon for delivery of care.
The initial set-up cost to the primary care practice is €1,319.89, with a €5.94 disposable equipment cost per patient (Figure 2).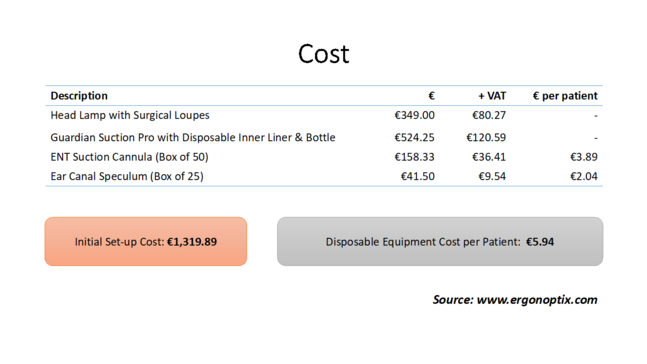 Figure 2
The ultimate aim of this integrated care programme is to develop a national network of credentialed primary care practicitoners, empowered to deliver an adult microsuction service for common ear conditions in a local setting. The patient maintains their connection with their primary care provider and this re-directed delivery of care would have a significant impact on reducing the demand for ENT OPD services, freeing-up the hospital based ENT surgeon to see, treat and manage patients with more complex conditions. This is estimated to be in the region of 32,000 patients per annum.

KEEP IN TOUCH
Connect with RCSI