Before the event:
Human Factors in Patient Safety Conference
Dear Colleague,

We are looking forward to welcoming you on Friday, 23 September 2022 at 2pm for our annual Human Factors in Patient Safety conference. Ahead of the event, please see some important details below:
Date/Time:

Friday, 23 September 2022, 2pm-5pm.

Venue:

O'Flanagan

Lecture Theatre, 123 St Stephen's Green, RCSI.

Programme Timetable: available here
Directions: 26 York Street is located opposite the older RCSI building (also known as 123 St. Stephen's Green). York Street is runs perpendicularly to the St. Stephen's Green Luas stop.

Parking:

Q-Park parking can be pre-booked online here. The closest Q-park facility is located at St Stephen's Green. RCSI does not offer discounts or subsidise the cost of parking for course participants.

Registration: Registration will take place in the Front Hall, RCSI, St Stephens Green, entrance via the side main entrance on York Street. Registration will be open from 1:30pm. When you arrive at the venue, please go to the registration desk and give your name to the RCSI staff so they can check you into the event and give you a delegate badge. The conference will take place in the O'Flanagan Theatre.
CPD: It is important that you check in so that you can receive your CPD points after the event.

A certificate of

attend

ance will be sent by email to all delegates who joined the session live within 2 weeks.

If

you

are registered with the RCSI PCS,

you

r credits will be uploaded automatically to

you

r profile.

Refreshments will be served afterwards from 5pm in the Boardroom.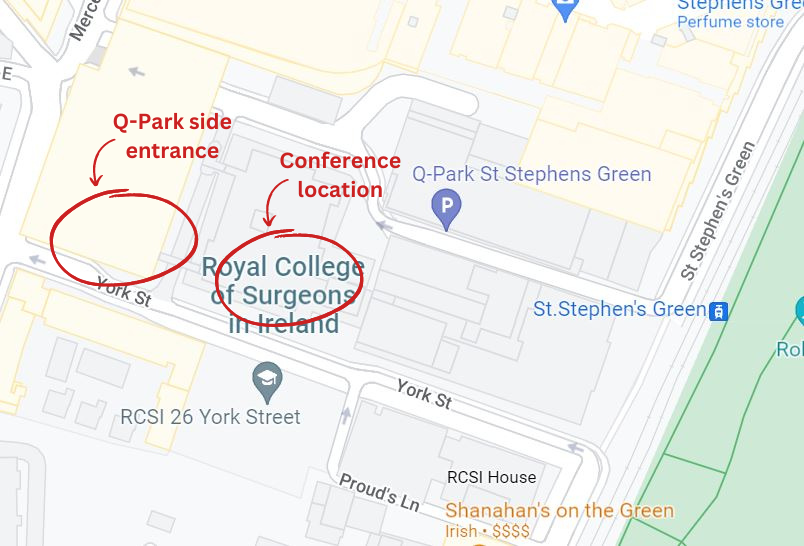 Please do not attend if you feel unwell, or have symptoms of Covid-19.
If you have any queries, please email MscHumanFactorsPS@rcsi.ie.
Kind Regards,
The Human Factors in Patient Safety team