Issue #4 | December, 2022
RCSI-NSRSC International Collaborative Surgical Trials Award
The RCSI National Surgical Research Support Centre (NSRSC) has been established to support surgical trial activity in Ireland. To achieve this the RCSI-NSRSC have launched an International Collaborative Surgical Trial call to support the participation of Irish sites in International surgical trials.
Applications are encouraged from all surgical disciplines. For more details about the call and how to apply please see www.rcsi.com/nsrsc
This is a rolling call and we encourage potential applicants to contact us in the RCSI-NSRSC in the first instance to discuss your proposal at NSRSC@rcsi.ie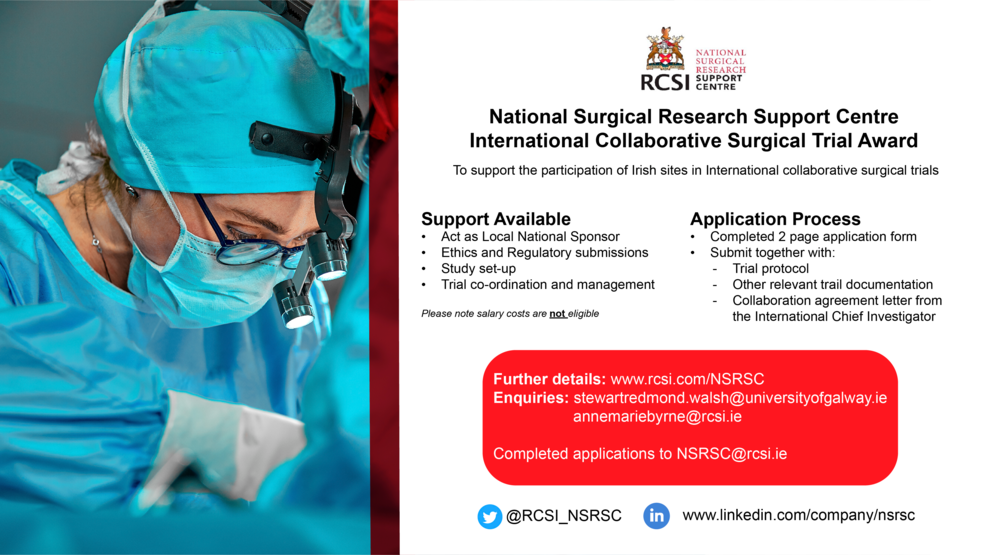 To keep up to date with our news and activities, please follow our LinkedIn here.
Kind Regards
Prof Stewart Walsh & Dr Anne-Marie Byrne
Prof Stewart Walsh
Clinical Lead
National Surgical Research Support Centre (NSRSC)
Dr Anne Marie Byrne
Programme Manager
National Surgical Research Support Centre (NSRSC)
W: www.rcsi.com/NSRSC P: (087) 4302835
Twitter: @RCSI_NSRSC LinkedIn: www.linkedin.com/company/nsrsc